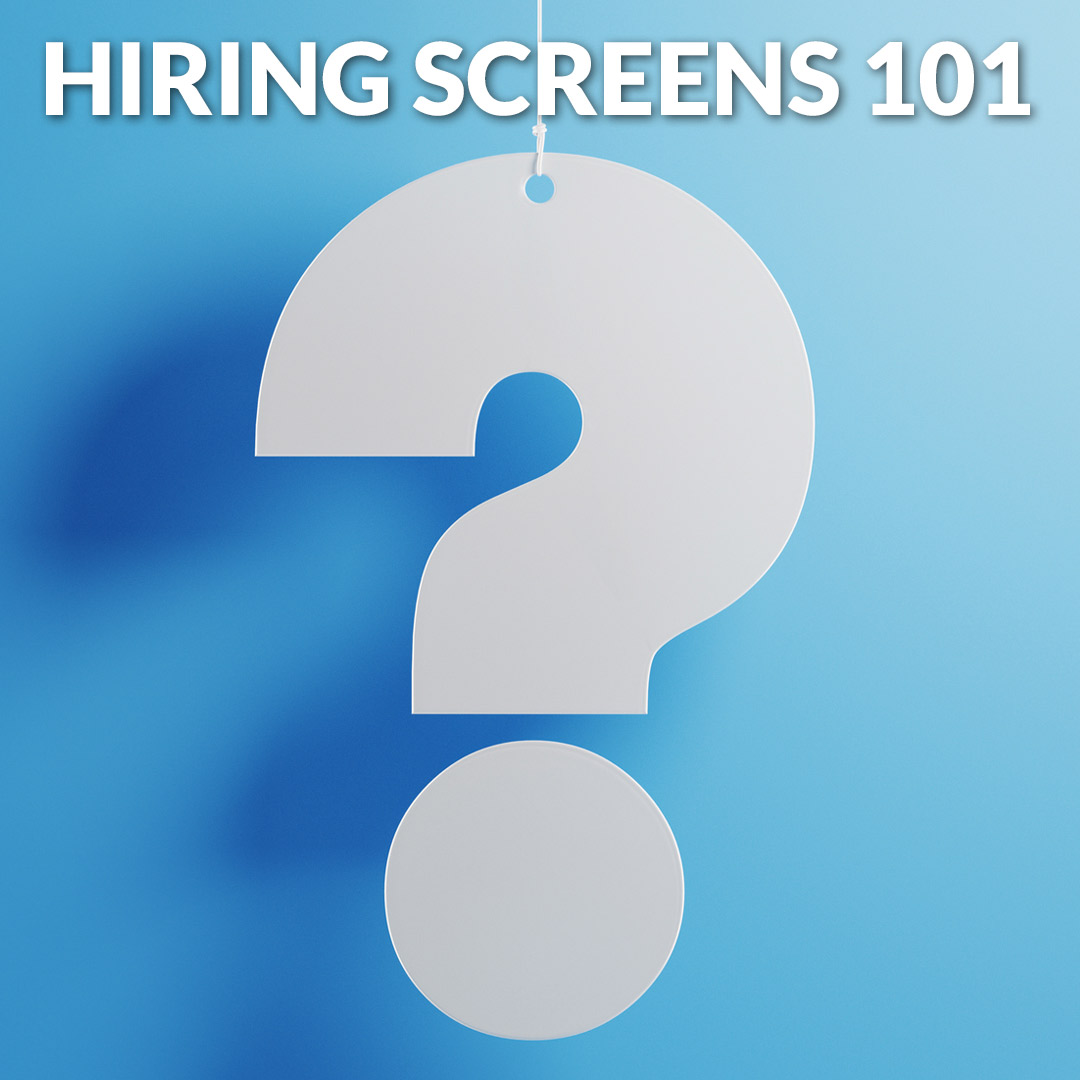 Hiring Screens.  Those annoying but all too necessary steps that a human resources department has to go through to make sure they are putting quality candidates in front of their hiring managers for face to face interviews.  In this post, we want to give you some strategies for making it through the phone screen process and on to the next step.  But first, if you are thinking about even getting yourself to a phone screening, make sure to check our entire job search 101 series which starts with resume building blocks.
What is a Phone Screening?
To get past a phone screening, we suppose you better have a good understanding of exactly what it is.  A phone screening, by definition, is a type of job interview, usually conducted at the beginning of the hiring process to determine if the candidate is qualified or not.  Usually, a screening interview includes a brief chat about your background followed by a list of questions regarding your qualifications, salary requirements, and any questions you may have regarding the job.
Video screens are increasingly popular –see below.
How to Crush a Phone Screening
Details, Details, Details:  Throughout a phone screening, which is usually conducted by an HR Rep or Recruiter rather than a hiring manager, the Recruiter will be listening for keywords and phrases that they can match qualifications up with the job description.  By reading the job description and what the company is looking for, you can better align yourself to make it through the initial phone screening by including some of their vocabulary in your message to the recruiter.
Try printing out the job description and highlighting the words or key terms you want to be sure to use.
Know Yourself:  Not only do you need to know your resume, but you also need to be able to articulate your strengths and weaknesses to a recruiter.
What are you good at naturally?
What are things that you know you need to improve upon in the workplace?
Ask The Recruiter Questions:  Most applicants who make it to a phone screening are not prepared to ask the recruiter questions about the position or about the company.  Be that person!
Write down a few of your more general questions regarding the job, and company culture.
Ask the recruiter what drew them to the company.
Do not include anything in your questioning about salary at this point, as it's really too early to press on this topic.  The recruiter is good at knowing what the company does on a holistic level. They will know some details of the specific job you are applying to, they will be best suited to answer more generalized questions regarding the position.

Follow up:  Yes the good old fashioned follow up letter.
I'm not talking email, I'm talking a handwritten letter from your home office to theirs.
Want to stand apart from the crowd?  Want to draw the eyes of a recruiter and get to a hiring manager?  Do something different than what the rest of the world is doing, which is email.  Our world loves email.  But for less than a dollar, you can work on your penmanship and let the recruiter's of the world know that you are serious about making it through that phone screening! Have terrible handwriting? Use a simple thank you card and print a thank you on regular paper, fold and enclose your message.
What About a Video Screening?
Video screenings can be more intimidating than phone screening for the sheer fact that you have to get out of your hoodie and present yourself like you are interviewing face to face.  If you haven't done much video in the past, it would be wise to Facetime some friends before you have your interview so you can get comfortable talking and looking at someone on the other end of a device.  If you are a Skype/Facetime aficionado, you will have the leg up on the competition. Other options include GoToMeeting, Zoom and GoogleMeet.
Here are some other top of mind simple tips to get you ready for a video screening:
Clean the area behind where you are sitting for your interview:  Your poster of John Belushi or Ricky Martin may have made you feel quite cool at one point in your life, but let's not distract a recruiter trying to ask you questions with a distraction catching their eye. A blank wall, or window, depending on lighting will serve its purpose.  You may have to close blinds, or open some depending on the time of day and lighting.
Dress to impress:  This goes without saying and also is dependent on the job you are interviewing for.  For any type of corporate job, you should be no less than business casual.  Other jobs might be okay with a collar shirt, or button-down or sweater.
Get your camera in front of your face:  Yes, you must present your face to the recruiter or person screening you.  That is the purpose behind a video screening.  I know, it's like a blind date, but you can do it!  Remember, you are the prize.  Do not have the camera at a side angle or vertically below or above your face.
Smile:  Be cheerful.  Attractive candidates smile.  Do your best. Oh, and check your teeth before the call.
Unable to do a video screening from home?  Check out a room at the Public Library, a space in a co-working venue.
Learn more tips, or find a great job in Eastern Iowa.
Want to follow along in our Job Search 101 Series? Sign up for our 101 Newsletter today and get updates as we release new articles each week.