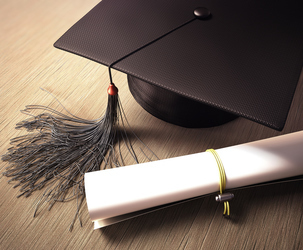 Tired of having limited employment options due to a lack of a GED or High School Diploma?  The Corridor workforce is highly educated1, and not having this credential can hurt your chances moving up.  That said, there are some options – and it's not too late to get started.
It will take some courage and dedication, and a real commitment.  Ready for a change?  Here are local resources that can help you fit your schooling into your schedule.
Kirkwood Community College offers adults a few ways to get their high school diploma.  We spoke with Marcel Kielkucki at the Kirkwood Center for Lifelong Learning to get more details.
What's the difference between a GED® and an adult high school diploma?
The GED® is an assessment and up until 2014, it was the only test available to take nationally to earn a high school equivalency diploma. No one ever earned at GED® diploma, but because it was the only test available, many people refer to the equivalency diploma as a "GED."
Iowa and a number of other states moved to a different test in 2014 and are now using the HiSET® test to issue the equivalency diploma. This option has you take 5 tests over math, reading, writing, social studies and science.
Kirkwood also offers an adult high school diploma option, where you take classes on your own instead of just taking one big test over a subject area. Both can result in a diploma, but it helps to talk with a staff member (at our program) to determine what the best fit is for your needs.
What geographic location do you serve?
Kirkwood is the only program serving the Creative Corridor – we serve seven counties: Linn, Johnson, Benton, Jones, Iowa, Cedar and Washington.
What's the best way to get started?
The first step is to call our main phone number: 319-784-1510. Staff will answer your questions and get you set up for an information/registration session which will begin the process.
What does it cost?
Depending on the program you choose, the cost differs. The HiSET® test is $60 currently and it can be paid in five $10 increments, with a $10 diploma fee when you complete the test. For those seeking an adult high school diploma, there is no cost other than optional book deposits.
How many people do this program?
The thing to keep in mind is you are not alone. Last year, we served about 650 individuals interested in earning a high school diploma or working on improving their math and reading skills. Of those individuals, 220 earned a diploma.
How long will it take me to complete the program?
It depends. It depends on how close you were to finishing school when you left school.  Once your transcripts are reviewed, you'll have a better estimate of how long it will take. Average completion times are about 6 months for participants.
When will I go to class?
There are 7 week class sessions where most students take 2 classes at a time if they are working on the HiSET® test. Generally, Cedar Rapids and Iowa city folks can meet in in the morning from 9 to 12, or 4 to 8 pm Monday through Thursday for 2 hours at a time with the expectation of about 8 hours of class time each week. If you work on our adult diploma option, you work independently, come into a location to take tests, and most students can finish one course a month.
What if I'm not in the 7-county service area?
You can put your zipcode into this online tool to find local resources. We serve most of Eastern Iowa, however folks near Tama would benefit from other programs.
What if I have a learning disability?
This program follows Department of Education guidelines to implement provisions of the Americans with Disability Act (ADA) and section 504 of the 1973 Rehabilitation Act. These policies and procedures are used to determine reasonable accommodations for students with disabilities to meet academic and technical standards required for their educational program.
Bottom Line?
You can work toward your High School Diploma while still working at your current job.  If it seems like too much work, or it will take too long, think about this – time will pass whether you go for it or not.  With a real high school diploma, you could find yourself in a more satisfying and rewarding job, or start working toward your next education goal. The sky is the limit.
Call today to get started: 319-784-1510
1 94.4% of Linn County adults age 25+ have a high school diploma or higher, 2010 US Census, Quickfacts