Cedar Rapids Jobs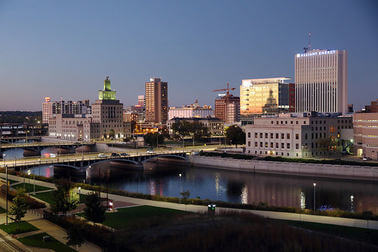 In search of jobs in Cedar Rapids, Iowa? With powerhouse employers like Collins Aerospace (a United Technologies Company) and manufacturing giants General Mills and Quaker Oats, Cedar Rapids has more of an industrial base than Iowa City. Yet Cedar Rapids has celebrated a renewal to its core neighborhoods in the downtown area after battling multiple floods, such as the big one in 2008.
This resulted in many new development projects and an increased number of retailers and restaurants in the Czech Village/NewBo and Kingston Village neighborhoods. In 2019, the area saw approximately $623 million in construction starts.
Like Iowa City, Cedar Rapids health care industries dominate along with Advanced Manufacturing and professional jobs, such as insurance and financial services. Not to be out-done by its trendy neighbor, Cedar Rapids is also home to the Iowa Startup Accelerator. Named the #1 best place in America for Children (2015-2019), Cedar Rapids is a solid community with some exciting opportunities and a great cost of living/ quality of life.