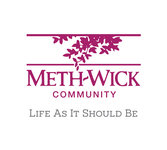 Meth-Wick Community Jobs
In 2023, The Meth-Wick Community celebrates over 60 years serving residents and giving them their "Life as it should be"! Nestled on 68 beautiful acres, Meth-Wick Community is a Life Plan Community for adults age 55 who have the option to choose their style of living including independent living, Independence Plus, assisted living, memory care and nursing care. As a wellness campus, residents and staff alike embrace a culture of physical, mental, and social well-being. Meth-Wick is a place where residents are at home and where they participate in the decisions that affect their lives. "Life as it should be!" is not just our motto; it is the foundation for everything we do.
A little-known secret about Meth-Wick is that we are a not-for-profit which means our decisions are made based on resident's needs not pocketbook of investors. We are intentionally structured to make decisions based on the best interest of our residents and nothing else.
The Woodlands is our nursing facility and is uniquely designed as three distinct neighborhoods. We have 64 private resident rooms, four of these rooms are state of the art bariatric rooms which is unique in the nursing home setting. Each neighborhood functions independently and includes full-sized kitchen, living room, den and craft room. Coming soon to The Woodlands is our very own Ice Cream Parlor!
Full-time employees (scheduled 30+ hours per week) enjoy a comprehensive benefit package and paid leave plan such as vacation, sick time and holiday. Part-time employees (scheduled 20-29 hours per week) also earn paid leave. Over the past 5 years, Meth-Wick has helped 36 employees advance their education through our Education Grant Program.
Visit our website for a virtual tour and list of open positions at www.methwick.org.