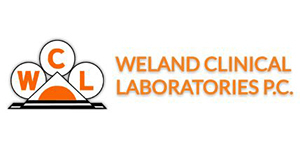 Weland Clinical Laboratories Jobs
Weland Clinical Laboratories, P.C. is a full service laboratory, operating seven convenient locations. Weland's team of health care professionals is dedicated to providing the highest quality testing in an efficient and caring manner.
Weland employs some of the most advanced testing and information systems available, to provide patients and physicians the most timely and accurate results possible.
In addition to traditional laboratory testing, Weland offers pre-employment, drug testing, drug collections, and wellness testing for businesses.