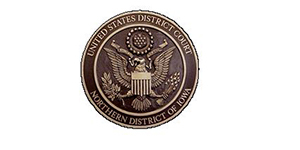 US District Court Jobs
US District Court for the Northern District of Iowa is a Federal Employer. The Court requires employees to adhere to a code of conduct, which is available upon request.
Federal benefits include Federal Employees' Retirement System which contributes to the Social Security Retirement Program, Federal Employees' Health Benefits, Federal Employees' Group Life Insurance, Thrift Savings Plan (similar to a 401 K plan with employer matching contributions), paid holidays and annual/sick leave accrual.