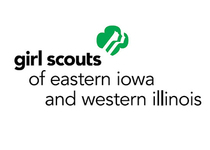 Girl Scouts of Eastern Iowa and Western Illinois Jobs
Do you envision yourself working in a collaborative environment with open communication; where your innovative ideas are valued and employees are enthusiastic about making a difference?
As part of the Girl Scouts of Eastern Iowa and Western Illinois family, you will be part of a creative team that strives to build original, dynamic and memorable experiences for our girls, volunteers, and community.
We are seeking professionals committed to exceeding expectations. We want individuals who are progressive, possess a strong work ethic and demonstrate commitment to a team approach to productivity.
Success requires talented individuals who can excel in their roles, enjoy their work, and build successful careers.  Our employees are dynamic, highly motivated, and take an innovative approach to both opportunities and challenges. They are skilled in their fields, passionate about their work, and strive to exceed expectations.