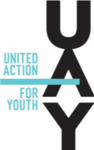 United Action For Youth Jobs
United Action for Youth (UAY) is a nonprofit organization which has been supporting young people and families in Johnson County and surrounding areas since 1970. UAY works with young people and their families through PREVENTION and INTERVENTION services to help them reach their goals.
From our two facilities in Iowa City and programs offered at area schools and agencies, UAY provides many opportunities for youth. Our Teen Parent Program provides a comprehensive array of services to young families in Johnson County. UAY's Youth Development programs give teenagers an opportunity to gain self-esteem, skills and leadership. UAY also offers counseling 365 days a year, 24 hours a day for youth, parents & families. Please visit our website for more information on these programs and more.