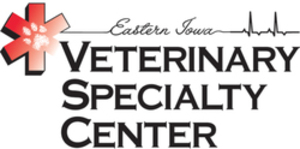 Eastern Iowa Veterinary Specialty Center Jobs
Eastern Iowa Veterinary Specialty Center functions as an extension of your family veterinary practice. Our team of board certified specialists and highly trained doctors and staff are ready 24 hours a day, 7 days a week to provide advanced medical care for the thousands of patients referred to us each year.
The Specialty Center functions like a human hospital, patients are referred to specialists by their primary care veterinarians and the emergency service is fully staffed and always ready for the unexpected.
Founded in 2005, the Eastern Iowa Veterinary Specialty Center was invited to the area by the primary care veterinarians of eastern Iowa.
Our hospital opened with an emergency team and a board certified surgeon. We have since added specialists board certified in internal medicine, dermatology, ophthalmology and emergency/critical care. Our doctors work in partnership with primary care veterinarians to provide advanced diagnostics, treatments and procedures.