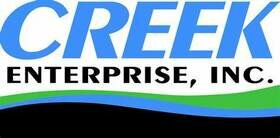 Creek Enterprise Inc Jobs
Creek Enterprise, Inc. is seeking a motivated and hard-working individuals to join our growing team with cable and pole placement.
Creek Enterprise, Inc. has been completing large-scale construction projects in the telecommunications industry since 2003. This includes directional boring, installation of manhole and conduit systems, buried and aerial placement of coaxial, copper, and fiber communications and power cable, plowing and trenching, digging pits, and replacing power poles. While our company has continued to grow and evolve over the past decade, our founding principles of putting our clients first continue to guide us to this day.
Our company is proud to be an equal opportunity employer and believes in diversity, equity, and inclusion. All qualified individuals regardless of race, color, religion, sex, national origin, sexual orientation, age, citizenship, marital status, disability, gender identity, veteran status, or any other identifying characteristic are encouraged to apply.