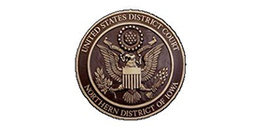 United States Probation Office Jobs
The United States Probation Office is a Federal Employer.  All court employees, including U.S. Probation Officers, are in the excepted service and are required to adhere to the Code of Conduct for Judicial Employees which is provided to each employee.
Federal benefits include Federal Employees' Retirement System which contributes to the Social Security Retirement Program, Federal Employees' Health Benefits, Federal Employees' Group Life Insurance, Thrift Savings Plan (similar to a 401 K plan with employer matching contributions), paid holidays and annual/sick leave accrual.