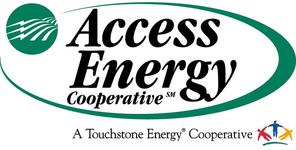 Access Energy Cooperative Jobs
Access Energy Cooperative is a rural electric cooperative located in Southeast Iowa. Headquarters office is in Mt. Pleasant, Iowa and an outpost is located in Fairfield, Iowa. Access Energy Cooperative provides electricity to approximately 6500 members throughout 10 counties and maintains about 2300 miles of line. We also serve numerous industries throughout our service territory. We are proud to be a Touchstone Energy Cooperative. Access Energy Cooperative has excellent hunting and fishing locations and opportunities and is only 45 miles from Iowa City. Access Energy Cooperative was founded in 1939 and has been a reliable source of electricity for the rural economy in Southeast Iowa. Throughout the years, we have been instrumental in economic development by applying for and receiving USDA grants.
Access Energy Cooperative provides an excellent benefit package including: Medical, Vision, Paid Vacation, Paid Sick Leave, Profit Sharing, Pension / 401(k).