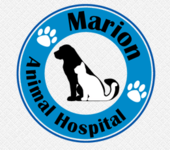 Marion Animal Hospital Jobs
Our main value at Marion Animal Hospital is compassionate care for your pet. We realize that your pets are members of your family and we want to help you be able to take care of them in the best way possible. We want to try to ensure that they have the most happy and healthy life they can have. We are a small practice in size of facility, veterinarians, and staff, but the value we offer is great client service. We want to get to know you and your pet on an individual level and that type of bond cannot be easily replicated.
Marion Animal Hospital is a full service small animal medical hospital committed to providing high quality medical and surgical care to our patients. Our doctors and staff are dedicated to making your and your pet's visit the best it can be, and strive to help your pet live the most healthy and happy life possible.
Our hospital is designed to help provide preventative medicine, early detection of diseases, and medical and surgical care, when needed throughout your pet's lifetime. At Marion Animal Hospital, we understand the special relationship between our patients and their people.