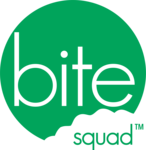 Bite Squad Jobs
Bite Squad is the (legitimate) lovechild of 2 friends with a passion for entrepreneurship and...food! omnomnomnom.... Ahem, a while back, we saw a need in our hometown community of Minneapolis for an easy, fast and affordable way to order all the wonderful cuisine around here without shuffling through a mess of menus, making endless phone calls, or trying to navigate a great restaurant's not-so-great website. So, with years of restaurant experience under our woefully well-fitting belts, we decided to do something about it and create Bite Squad.

Bite Squad is the last place you'll ever have to go online to order yummy cuisine for delivery or take-out. We've partnered with local restaurants, hand-picked our food lovin' customer support squad, and wrangled up a fleet of environmentally friendly vehicles to get fresh food from the restaurant straight to your door, quickly and hassle free!
Join the Squad for:

Flexible Scheduling
Part-time or full-time days or nights; Bite Squad lets you set your availability and create flexible, consistent schedules that adapt to your lifestyle.

You Won't Be Alone
Real time dispatch team + call center for support when you need it. We handle all customer communication, while you focus on getting from point A to B.

Guaranteed Wages
All Bite Squad drivers are W2 employees - meaning that there is always a guaranteed hourly wage. Stable hours + guaranteed wages=less stress.