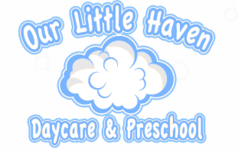 Our Little Haven Childcare and Preschool Jobs
Our Little Haven is your child's home away from home. We love what we do and it shows. We are located in Marion, IA and have been nurturing young minds for 6 years.
Our Little Haven has an Open-Door policy. All parents have access to their child at all times. Parents should feel free to contact the center or the child's teacher at any time. Meetings or conferences are able to be scheduled when parents inquire. We also believe that parent involvement is necessary to the success of any child care program. We encourage parents to volunteer any time and talents they may have. Together we will work with your child so he or she is growing, learning, and developing secure attachments. We have the ability to build strong children, strong families, and strong communities to make a better future for all.

For safety precautions, we are a secured building. When your child enrolls, we will give you the key code to enter the building. We ask that only the Primary Adult and Secondary Adult whom are dropping off and picking up will have the code. Children must be signed in and out every day in their room by an authorized adult whose name is on file in our office.

Our Little Haven is licensed by The Department of Human Services. This center meets all requirements of the licensing process. Staffing for the center meets the licensing requirements related to age, education, and adult/child ratio. Staff members are selected based on their qualifications; skills and concern for the health, safety, and development of young children. We provide regular and ongoing training in child development, First Aid, and CPR.