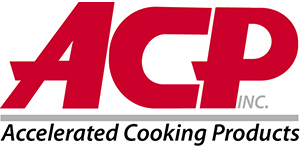 ACP, Inc. Jobs
Be A Part Making The World's Best Accelerated Cooking Ovens! While many manufacturers have moved production offshore, at ACP, Inc., we're committed to expanding production right here in Cedar Rapids, IA. We'd like YOU to help us to make that happen. We have a talented workforce that is committed to manufacturing the world's most innovative cooking solutions for the commercial foodservice industry. All we're missing is YOU!
Located in beautiful Cedar Rapids, IA., ACP, Inc. is a great place to work. The people are great. So are the things we make: World-class commercial microwave, specialty, steam, and speed ovens that are famous for performance, quality, and reliability, used by the world's most recognizable foodservice restaurants and chains. We're proud of what we make. Especially since we're the only commercial microwave brands made right here in the USA. And we've been doing it since 1969!
At ACP, we believe that the quality of our products is directly related to the people that make them. Each team member plays a vital role in helping us maintain that quality. Here, people make our products — not robots. Real people with real skills that power kitchens in every corner of the globe. If that sounds like a team you'd like to be a part of — we'd like to meet and talk to you!